About Dr. Andy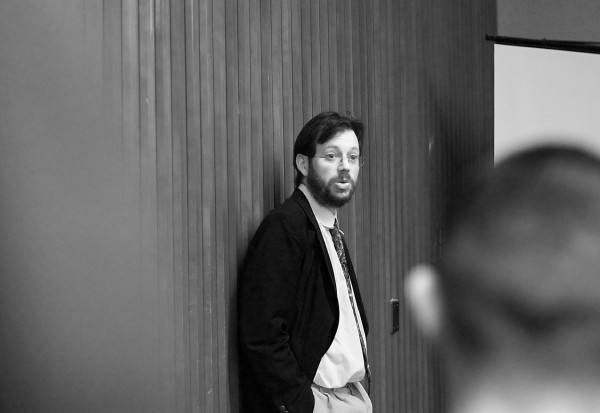 Dr. Andy Jones is the producer, engineer and host of Dr. Andy's Poetry and Technology Hour on KDVS – FM in Davis, serving the Sacramento Valley at 90.3 FM and everywhere else via the web at www.poetrytechnology.com and www.kdvs.org.
Dr. Andy is a poet, MC, faculty member at UC Davis, public speaker, and essayist. Andy has taught writing and literature classes at the University of California, Davis since 1990, and since 2000 has hosted "Dr. Andy's Poetry and Technology Hour" on KDVS, Wednesday afternoons at 5:00 P.M. Among the 1,000 guests he has interviewed on the radio show have been Margaret Atwood, Sherman Alexie, Ian MacKaye, and Gary Snyder. Andy's home base is the University Writing Program at UC Davis; also at UC Davis he teaches for the Technocultural Studies Program, the Department of English, and the Graduate School of Management. In addition to a wide variety of classes on advanced non-fiction writing, writing across media, creative writing, American Literature, poetry, and theory, Andy has taught several freshman seminars on topics such as Jazz and Literature, The Beat Generation in Poetry and Film, Creativity and Technology, Writing About the Future, and Becoming Borg. In 2006, the Associated Students at UC Davis named him Educator of the Year.
Dr. Andy's poems have appeared in many small journals and newspapers, including Epicenter, A Light Left On, The Homestead Review, Snakeskin, The Blue Moon Literary and Art Review, and The Sacramento News and Review. His poetry has also appeared in a number of anthologies, including The San Francisco Writers Conference Anthology, All-World Wrestling Poetry—A Collection of 52 Wrestling Poems, and Flatmancrooked's Slim Anthology of Contemporary Poetics – 2010. Andy is working on a variety of book projects, including a book on putting poetry into prose, a book on creativity and professional development, and a book on parenting (co-authored with his wife, Kate). His next poetry book, Cages, has been called "a delight: witty, poignant and always insightful. A lovely collection" by Abraham Verghese, New York Times best-selling author of Cutting for Stone. In 2006 Andy's book of poetry, Split Stock, was published by John Natsoulas Press. His co-author was Brad Henderson.
Andy serves the local literary community as the volunteer host of the Poetry Night Reading Series on the first Wednesday each month at Bistro 33 (226 F Street in Davis, CA), and on the third Thursday each month at the John Natsoulas Gallery (521 1st Street, Davis, CA), both beginning at 8 P.M. Readers have included UC Davis faculty Francisco X. Alarcón, John Boe, Joshua Clover, Jack Forbes, Clarence Major, Sandra McPherson, Joe Wenderoth, and Alan Williamson, as well as many regional and traveling poets, such as Kim Addonizio, Maxine Chernoff, Paul Hoover, and James Ragan.
In addition to his poetry-centric work on KDVS and serving as Poetry Night host, Andy regularly volunteers his time and talents for educational and literary causes. Every year for the last decade he has chaired the Essay Evaluation part of the Yolo County Academic Decathlon. He has served the California Arts Commission as a judge for the Sacramento "Poetry Out Loud" competitions, he is the Chair of the Cultural Action Committee of Davis, he co-authored the position of Poet Laureate of the City of Davis, he has hosted fundraisers for Haiti disaster relief and Tree Davis (through Davis Sunrise Rotary), and for the last seven years he has volunteered as poetry faculty for the San Francisco Writers Conference. An expert on creativity, thoughtful teaching, instructional technology, professional development and social media, Dr. Andy has given over 200 talks and presentations on ways to become more engaged as teachers, writers, and creative thinkers.
Andy lives in Davis with his wife and three children. He can be found on Twitter here.